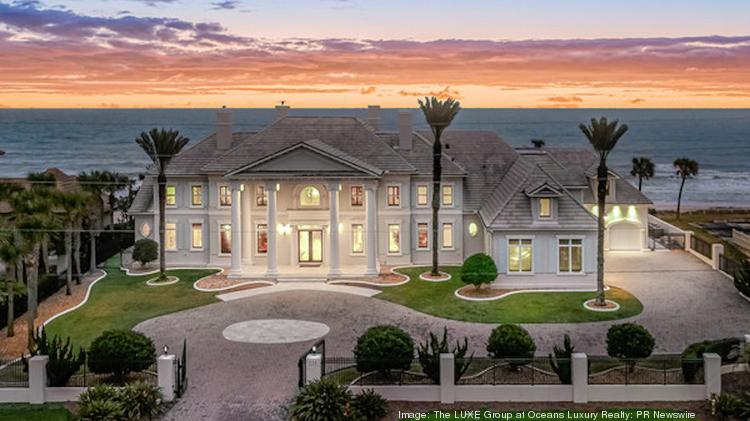 This Ormond Beach oceanfront estate, which sold in October 2021, set a sales price record in Volusia County at $5.12 million.
THE LUXE GROUP AT OCEANS LUXURY REALTY; PR NEWSWIRE
A home in Volusia County, one of the nation's hottest housing markets, has sold for $5.12 million, a record for the county, luxury real estate group The Luxe Group announced on Oct. 18.
The 16,000-square-foot oceanfront estate at 535 Ocean Shore Blvd. in Ormond Beach recorded the highest single-family home sale price in Volusia County, beating the previous record of $3.8 million.
The two-story, Greek Revival home has eight bedrooms, 8.5 bathrooms and 156.5-feet of ocean frontage. It also features two garages with space for six cars, and an ocean front infinity pool with spa.
Daytona Beach Shores-based The Luxe Group, a luxury home sales team at Oceans Luxury Realty, represented the sellers and buyers in the transaction.
The sale hasn't yet recorded to Volusia County records. However, the buyers are from Ohio and they plan to relocate to Ormond Beach and expand their charity for disabled dogs, The Trooper Telegraph, into Florida beginning with Greater Daytona Beach, according to a news release.
The Daytona Beach metro area, which includes Volusia and Flagler counties, ranked 15th in the country in an analysis by The Business Journals of Zillow Group Inc. data published on Sept. 17. The study found the Daytona Beach market's median home value of $274,080 was up 19% from a year ago.
"Volusia County offers incredible value in comparison to other markets along the East Coast," said The Luxe Group co-founder Chris Connors in a prepared statement. "We still are in one of the few coastal markets where you can purchase luxury ocean front homes on large lots for far less than you would pay in coastal New England or South Florida."
The Luxe Group team already has reached its highest sales volume ever so far this year at $41 million and still rising, up from $20 million in 2020.
Housing market trends are key to Florida's economy, as every home sale in the state has an estimated local economic impact of $90,300, per the National Association of Realtors. In addition, the housing market often is considered a bellwether of the area's overall economic health.
Source: http://www.bizjournals.com/orlando/news/2021/10/18/oceanfront-home-sale-sets-record-in-volusia-county.html